Posts for: January, 2014
By Dr. Stephanie ML Wong, DMD, Inc.
January 30, 2014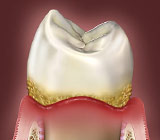 Periodontal (gum) diseases like gingivitis (inflammation of the gum tissues) can exist in a chronic form for some time, while gradually worsening. But given the right conditions, gingivitis could elevate quickly into an acute, painful condition known as Acute Necrotizing Ulcerative Gingivitis (ANUG). While it can be effectively treated, it's important to diagnose ANUG early and begin treatment as soon as possible.
ANUG is also known as "trench mouth" as it was commonly recognized among soldiers in the trenches during World War I. Its name describes it as "necrotizing" and "ulcerative," because when left untreated it kills ("necrotizes") soft gum tissue, particularly the triangular tissue between teeth known as papillae, and causes severe and painful sores. A person with ANUG may also exhibit very bad breath and taste, with an odor peculiar to the disease. It's believed that acute stress, poor nutrition and a lack of sleep can trigger the condition in individuals with pre-existing gingivitis.
As with other forms of gum disease, the first priority of treatment is to alleviate the symptoms. Besides initial cleaning (also known as scaling), we would also prescribe antibiotics (particularly Metronidazole, which is effective against the specific bacteria responsible for ANUG), an antibacterial mouthrinse like chlorhexidine, and a mild saline rinse. We would also control pain and inflammation with non-steroidal anti-inflammatory drugs like aspirin or ibuprofen.
As the symptoms come under control, it's then necessary to treat the underlying gingivitis by continuing the thorough cleaning of the affected surfaces, including the roots, of as much plaque and tartar as possible. Good oral hygiene with semi-annual professional cleanings must become regular habits to inhibit future reoccurrences of the disease. Quitting smoking, eating a healthy diet and managing stress are also advisable.
Without treatment, ANUG symptoms will persist; you could eventually lose the affected papillae, and experience other detrimental effects to other periodontal tissue and bone structures. If you suspect you may have gingivitis or this acute form, you should visit us as soon as possible for a full evaluation and treatment. The earlier we diagnose and treat gum disease, the better your long-term outlook.
If you would like more information on painful gums, please contact us or schedule an appointment for a consultation. You can also learn more about this topic by reading the Dear Doctor magazine article "Painful Gums in Teens and Adults."
By Dr. Stephanie ML Wong, DMD, Inc.
January 15, 2014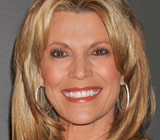 As the co-host of one of America's most beloved television game shows, Wheel of Fortune, Vanna White is recognized for her beautiful gowns and her dazzling smile. However, during an exclusive interview with Dear Doctor magazine, she shared her experiences with cosmetic dentistry. "I had a bridge put in probably 30 years ago where I had a tooth pulled and there was a space," Vanna said.
Prior to having a permanent tooth pulled, most people are concerned with what can be done to replace it. It's important to follow through and do exactly that. This is especially true with back teeth. Just because you can't see them, it doesn't mean you won't face problems if they are not replaced.
For example, did you know that missing posterior (back) teeth can lead to a wide array or problems with the remaining teeth, muscles, ligaments, joints and jaw bones? This includes:
A decrease in chewing efficiency that in turn can impact your diet, nutrition and overall health
Excessive erosion or wear of remaining teeth
Tipping, migration, rotation and even loss of adjacent remaining teeth
Painful jaw problems such as Temporomandibular Dysfunction (TMD)
One treatment option is to follow in Vanna's footsteps and consider a fixed bridge. This is an excellent option when dental implants won't work. And through our artistry, we can easily blend them in color and appearance with your surrounding teeth.
When implants are possible, they represent the best option. They are easily maintained and are a durable, long-lasting solution that can increase bite support.
To learn more about this topic, continue reading the Dear Doctor magazine article "Replacing Back Teeth." Or if you are already missing a permanent tooth, you can contact us today to schedule an appointment so that we can conduct a thorough examination. We will also address any questions you have as well as your treatment options. And if you want to read the entire feature article on Vanna White, continue reading "Vanna White."