Posts for: October, 2017
By Dr. Stephanie ML Wong, DMD, Inc.
October 27, 2017
Recurring episodes of severe pain along your face could mean you have trigeminal neuralgia (TN). Although not always curable, TN can be managed effectively with the right strategy.
TN affects a specific pair of nerves called the trigeminal that signal pain in the face or jaws. They originate from the brain stem through the skull on either side of the face, with each nerve having upper, middle and lower branches. TN can affect one or more of these branches and cause anywhere from a mild twinge to excruciating pain.
Causes for TN differ in individual patients. Though it could be linked to a tumor, lesion or cold sore, it most often seems to arise from a blood vessel impinging on the nerve and damaging its outer coating. This causes it to be hypersensitive: chewing, speaking or even lightly touching the face can set it off. The damaged nerve may also fail to "shut off" when the triggering stimulation stops.
If you have these types of symptoms, your first step is to obtain an accurate diagnosis. You'll need a thorough examination to rule out other possibilities like jaw joint problems or a tooth abscess. Once we've determined it's definitely TN, we can then devise a treatment strategy.
We usually begin with conservative measures like medication to block pain transmission to the brain or anticonvulsants that stabilize the nerve and decrease abnormal firing. If medication isn't enough, we may then consider an invasive procedure to control symptoms.
Percutaneous treatment — often recommended for older patients or those in poor health — involves inserting a thin needle into the nerve to selectively damage certain fibers that will prevent the nerve from signaling pain. We might be able to move an impinging blood vessel aside from the nerve with a microsurgical procedure. As an alternative to surgery, high-dose radiation could also be aimed precisely at the pain site with a controlled beam to alter the nerve's ability to transmit pain.
TN can be a source of great discomfort that lowers your quality of life. But employing treatment techniques that best suit your situation, we can greatly reduce the misery it inflicts.
If you would like more information on facial pain caused by trigeminal neuralgia, please contact us or schedule an appointment for a consultation. You can also learn more about this topic by reading the Dear Doctor magazine article "Trigeminal Neuralgia: A Nerve Disorder that Causes Facial Pain."
By Dr. Stephanie ML Wong, DMD, Inc.
October 12, 2017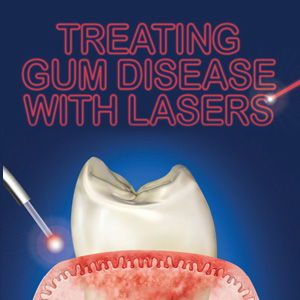 While lasers still seem like science fiction, they've been used commercially (and medically) for decades. But there's still room for growth in practical applications with this developing technology. One promising area is in the treatment of periodontal (gum) disease.
Gum disease is a bacterial infection triggered by plaque, a thin film of bacteria and food particles caused by inadequate oral hygiene. The disease is highly destructive and can eventually lead to both tooth and bone loss. Treatment procedures vary widely, but they all have the same goal: remove the offending plaque and calculus (tartar) from tooth and gum surfaces. Without plaque the infection subsides and the gums can heal.
For decades now, dentists have removed plaque and calculus manually with special hand instruments or ultrasonic equipment. If the disease has advanced below the gum line or formed deep voids filled with infection called periodontal pockets, the dentist may also employ surgical techniques to access the infected areas.
While all these techniques have a long track record for effectiveness, they can cause the inadvertent destruction of healthy tissue, as well as create discomfort for some patients afterward. This is where a new protocol called Laser Assisted New Attachment Procedure (LANAP®) may be able to make a difference in the future.
With the LANAP® protocol, surgeons direct a laser beam of light through a fiber optic the width of three human hairs onto diseased tissue. The particular color of light interacts with the tissue, which contains the darkly-pigmented bacteria causing the disease, and "vaporizes" it. The beam, however, passes harmlessly through lighter-pigmented healthy tissue; as a result diseased tissue is eradicated with little to no harm to adjacent healthy tissue.
With these capabilities, trained dentists using LANAP® for gum disease treatment might be able to achieve conventional results with less tissue removal and bleeding, less discomfort for patients, and less tissue shrinkage than traditional procedures — and without scalpels or sutures. And some post-surgical studies have indicated LANAP® might also encourage gum tissue regeneration in the months following.
LANAP®, however, is still developing and requires further research. Thus far, though, the results have been encouraging. As laser technology advances, it's quite possible tomorrow's patient may experience less discomfort and more effective healing with their gum disease treatment.
If you would like more information on gum disease treatment, please contact us or schedule an appointment for a consultation. You can also learn more about this topic by reading the Dear Doctor magazine article "Treating Gum Disease with Lasers."