Posts for: February, 2020
By Dr. Stephanie ML Wong, DMD, Inc.
February 20, 2020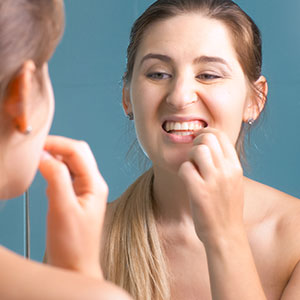 As a saying, "Necessity is the mother of invention" is no more appropriate than when you have something caught between your teeth. And humans, as inventive and creative as we are, have used a weird assortment of items—usually within arms' reach—to dislodge a pesky bit of food.
According to a recent survey, more than three-fourths of Americans admit to using a number of "tools" to clean between teeth including twigs, nails (the finger and toe variety), business cards or (shudder!) screwdrivers. And it's one thing to do this alone, but among dinner companions and other folk it's a definite faux pas.
Usually, it's smarter and more economical if you can use a particular tool for many different applications. But when it comes to your teeth, you should definitely go with a "unitasker" designed specifically for the job: dental floss. It's not only the safest item you can use to clean your teeth, it's specifically designed for that purpose, especially to remove disease-causing plaque from between teeth.
Of course, the reason many of us use alternate items for cleaning between teeth is that they're the closest ones at hand. You can remedy this by keeping a small spool (or a short length) of dental floss or floss picks handy for those moments you encounter a wedged piece of food. In a pinch, you can use a rounded toothpick (better for your gums than the flat variety).
At home if you find flossing difficult, consider using a water flosser. This handheld device emits a pulsating stream of pressurized water that loosens and flushes away plaque and bits of food remnant. It's ideal for people who have a hard time maneuvering floss or who wear braces, which can block regular floss thread from accessing between teeth as fully as possible.
In any case, use the other "tools" at hand for whatever they're intended. When it comes to what's best for your teeth, use floss to keep the in-between clear and clean.
If you would like more information on best oral hygiene practices, please contact us or schedule an appointment for a consultation.
By Dr. Stephanie ML Wong, DMD, Inc.
February 10, 2020

When you're expecting a new baby, there's a lot to prepare: outfitting the nursery, stocking up on diapers or choosing a pediatrician. It's also not too early to consider how to protect your new child's dental development.
From birth through adolescence, a child's mouth goes through a whirlwind of growth. Hopefully, it all follows a normal track, but detours can arise like tooth decay or bite problems.
Here are 4 things you can do to keep your child's dental development on track.
Start oral hygiene before teeth. Daily oral hygiene is essential toward helping your child avoid tooth decay. And don't wait for teeth to come in—begin wiping their gums with a clean, damp cloth right after nursing. When teeth do appear, switch to brushing with just a smear of toothpaste and then add flossing as more teeth come in.
Begin regular dental visits. The American Dental Association recommends pediatric dental visits around the first birthday. The possibility of tooth decay becomes a concern around this time as the primary teeth are steadily erupting. Starting earlier rather than later may also help your child adjust to the routine of dental visits that they'll most likely carry on as they get older.
Control their sugar consumption. Because sugar is a prime food source for disease-causing bacteria, you should keep your child's sugar consumption as controlled as possible. For example, don't put a baby to bed with a bottle filled with a sugary liquid (including juice and breast milk)—the constant presence of the liquid during nap time encourages bacterial growth and acid production.
Get an orthodontic evaluation. While we often associate orthodontic treatment with the teen years, it may be possible to head off bite problems earlier. So, see an orthodontist for a bite evaluation when your child is around age 6. If there are signs of a developing problem, certain techniques could help stop or slow them from getting worse, helping you avoid extensive and expensive treatment later.
With a newborn coming, you and your family have a lot on your plate. Be sure, though, not to forget making plans for keeping their teeth and gums healthy.
If you would like more information on dental care for your child, please contact us or schedule an appointment for a consultation. You can also learn more about this topic by reading the Dear Doctor magazine article "Age One Dental Visit."