Posts for tag: Missing Teeth
By Dr. Stephanie ML Wong, DMD, Inc.
July 10, 2018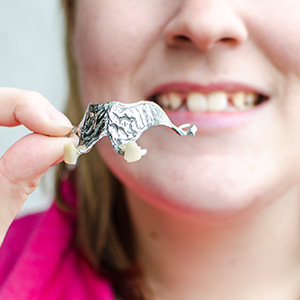 Anyone at any age, including older children and teenagers, can lose or be born missing a permanent tooth. And while those missing teeth can be restored, replacing them in patients who haven't yet reached adulthood can be tricky.
That's because their dental and facial development isn't finished. This is especially problematic for dental implants because as the jaws continue to grow, a "non-growing" implant could eventually appear out of alignment with the surrounding natural teeth. That's why it's often better to install a temporary restoration until the jaws fully mature in early adulthood. Two great choices are a removable partial denture (RPD) or a bonded ("Maryland") bridge.
While "dentures" and "teens" don't seem to go together, an RPD in fact can effectively restore a teen's lost dental function and appearance. Of the various types of RPDs the one usually recommended for teens has a hard acrylic base colored to resemble the gums, to which we attach prosthetic ("false") teeth at their appropriate positions on the jaw.
Besides effectiveness, RPDs are easy to clean and maintain. On the downside, though, an RPD can break and—as a removable appliance—become lost. They can also lose their fit due to changes in jaw structure.
The bonded bridge is similar to a traditional fixed bridge. But there's one big difference: traditional bridges crown the natural teeth on either side of the missing teeth to secure them in place. The supporting teeth must be significantly (and permanently) altered to accommodate the life-like crowns on either end of the bridge.
Instead, a bonded bridge affixes "wings" of dental material extending from the back of the bridge to the back of the natural teeth on either side. While not quite as strong as a regular bridge, the bonded bridge avoids altering any natural teeth.
While a fixed bridge conveniently stays in place, they're more difficult than an RPD to keep clean. And while less prone to breakage, they aren't entirely immune to certain stresses from biting and chewing especially in the presence of some poor bites (how the upper and lower teeth come together).
Choosing between the two restorations will depend on these and other factors. But either choice can serve your teen well until they're able to permanently replace their missing teeth.
If you would like more information on dental restorations for teens, please contact us or schedule an appointment for a consultation.
By Dr. Stephanie ML Wong, DMD, Inc.
May 16, 2014
Have you been paying too much attention to your smile? Is it negative attention? If so, it may be time to have your smile assessed by a professional. You may be dealing with malocclusion.
How Is the Spacing Between Your Teeth?
Many patients come in with spacing problems, whether it's gaps or crowding. Even the smallest dental imperfection can stick out like a sore thumb to a patient, and that's something we take into consideration when we approach this from an esthetic point of view.
However, we also need to look at spacing problems from the perspective of function. Correcting malocclusion will improve the biting function of teeth while also making it easier to clean around and between certain teeth. This will be a positive change for your oral health, which is most important to you and us.
What's Your Dental History Look Like?
A treatment plan is created around your dental history. Here is what we need to know about:
Missing teeth
False teeth
Gaps
Fillings
Crowding
Cosmetic treatment (dental implants, bonding, veneers, etc.)
Past orthodontic work
What Is Most Important to You?
Patients have primary goals for their smiles. Do you want to fix that space in the front teeth? Do you have a wedding down the road and need a less revealing orthodontic treatment? Find out what is most important to you and discuss it with us. Communicating your dental needs is the first step to figuring out what kind of treatment you need and want.
Honolulu Residents: Is Invisalign Right For You?
Malocclusion requires orthodontic treatment, and today's dentistry offers a
variety of orthodontic devices
for treating misalignment and/or an impaired bite. At our office, we focus on patient convenience and comfort, which is why we provide the Invisalign system to your Honolulu patients.
Do you want to know more about Invisalign in Honolulu? Call our office today. We are happy to answer your questions.