Posts for: February, 2014
By Dr. Stephanie ML Wong, DMD, Inc
February 25, 2014
Fight Cavities With Your Family
It's important to have a healthy mouth. You entered the world without any teeth, but it's safe to say you want to keep your teeth for a long time, hopefully, a lifetime. And you want the same thing for your entire family. To make sure your family's oral health is good and your teeth remain intact, you need to find dental services for family dentistry. Honolulu residents should talk to Dr. Stephanie Wong, who is a Honolulu, HI dentist. Dr. Wong leads a top dental team and provides preventative services for families.
Leading Family dentistry Services at Dr. Wong's Honolulu Office
Typically,
general and family dentistry goes hand-in-hand
. For family and general dentists, the main goal is to help patients combat tooth decay and gum disease. To do that, dentists pay close attention to the removal of plaque bacteria and tartar that can accumulate on the teeth and near the gumline.
Proper removal requires proper cleaning, which is why your dentist will recommend you get a checkup twice a year for X-rays, dental cleaning and exam. If you already have dental issues, three to four month checkups should keep your teeth in check.
Dr. Wong has many dental services that will benefit your family. From toddlers to older adults, some common dental services include CEREC same day crowns, bonding, dentures, Invisalign, periodontal gum disease therapy, BIOLASE laser treatment, cosmetic whitening and professional teeth cleanings.
Kids, teenagers and young adults will need to keep an eye out for cavities and malocclusion.
Periodontal disease has become a major thorn in the sides of many adult patients.
The Importance of At-home care for your entire family
When the family isn't getting dental care at a family dentistry practice, at-home preventative care is a must. Dental tools you need to have in your house include floss, mouthwash and an electric toothbrush.
If you have a dental emergency, call (808) 732-3072 to see Dr. Wong and her team. If you want to schedule a dental appointment for you or a family member, you can call or request an appointment via our website. Your family health-care professional can offer dental pointers that are customized to match your or a love one's dental needs.
By Dr. Stephanie ML Wong, DMD, Inc.
February 21, 2014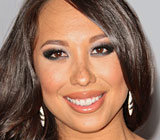 If you've ever watched Dancing with the Stars on television, you've no doubt noticed the vivacious and talented Cheryl Burke, whose ballroom dance moves are as captivating as her bright smile. In fact, Cheryl considers her smile to be one of her most important assets as a professional dancer.
"As a performer, you're basically smiling the whole time," Cheryl told Dear Doctor magazine recently in an exclusive interview. "It's just really important to take care of your teeth and have a great smile."
Cheryl is very conscientious about caring for her smile, but that wasn't always the case. In the Dear Doctor interview, Cheryl revealed that her teeth suffered from ineffective oral hygiene when she was younger. "I definitely had my share of cavities," Cheryl recalled, adding that she believed this was her own fault. "I didn't use floss," She explained. "I think when you do floss frequently, it helps to reduce the chances of getting cavities. It took me a while to figure it out."
Once Cheryl did figure it out, she was able to make cavities a thing of the past. But in order to make sure the effects of her prior tooth decay did not mar her lovely smile, she made sure her dentist — who is also her stepdad! — gave her tooth-colored fillings that could not be distinguished from the surface of a natural tooth. "It's important for me," Cheryl said.
Lots of dental patients feel the same way, even if they don't spend time in front of television cameras. That's why the dental profession has developed tooth-like materials such as composite resins and porcelains that mimic natural tooth material exactly. These materials are also suitable for children's teeth and can incorporate fluoride to reduce tooth decay. It's even possible to replace old silver-colored fillings with these newer dental materials.
If you would like to learn more about tooth-colored fillings, please contact us to schedule an appointment for a consultation. To read Dear Doctor's entire interview with Cheryl Burke, please see "Cheryl Burke." Dear Doctor also has more on "The Natural Beauty of Tooth-Colored Fillings."