Posts for: October, 2020
By Dr. Stephanie ML Wong, DMD, Inc.
October 17, 2020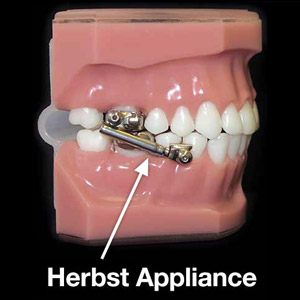 Each year, millions of children and teenagers wear braces or clear aligners to straighten a crooked smile. But there may be a way to treat some of these bite problems and avoid braces—by intercepting the problem at an earlier age.
This can often be done if the bite problem stems from abnormal jaw development rather than misaligned teeth. An example of this occurs when the upper jaw growth outpaces the lower jaw, causing the upper teeth to protrude beyond the lower teeth. Aside from the effect on appearance, protruding front upper teeth may extend beyond the protection of the lip and be more prone to injury.
A device called a Herbst appliance could prevent this from happening. The top of the device has two hinged metal tubes that connect to elastic bands bonded to the back teeth on both sides of the upper jaw. The bottom also has tubes affixed in the same way to the bottom teeth, except they're slightly smaller and fit within the upper tubes.
The lower tubes sliding within the upper tubes produces slight pressure against the lower jaw to ease it forward. This gradually influences the lower jaw to grow at a pace equal with the upper jaw to decrease the chances of poor bite development. Unlike other corrective methods, the Herbst appliance fixed in place and out of the way won't interfere with sports or other physical activities.
An installed Herbst appliance may change a patient's sensations during swallowing, eating or speaking, but most children adapt to the changes within a few days. And, because the device can create challenges for keeping the back teeth clean, many dentists recommend adding a fluoride rinse to daily brushing and flossing as an added boost against tooth decay.
The Herbst appliance is most effective during the period of most rapid physical growth between the ages of 11 and 14, but if the teeth are already beginning to protrude it can be undertaken as early as 8 or 9. Either way, this important orthodontic tool could help address a complicated bite problem and reduce the need for more costly orthodontic treatment later on.
If you would like more information on early interventions for poor bites, please contact us or schedule an appointment for a consultation. You can also learn more about this topic by reading the Dear Doctor magazine article "The Herbst Appliance."
By Dr. Stephanie ML Wong, DMD, Inc.
October 07, 2020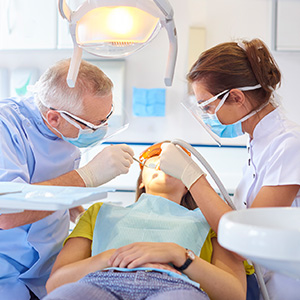 After years battling disease, your troubled tooth reached its useful life's end. It's been extracted, and we've replaced it with a life-like dental implant. So now, as far as the implant goes, disease is no longer an issue…right?
Sorry, no—though not to the same degree as a natural tooth, an implant could be endangered by gum disease. Although the implant's materials can't be infected, the supporting gums and bone can.
In fact, there's a particular type of gum disease associated with implants known as peri-implantitis ("peri" around an implant; "itis" inflammation) that first affects the gums surrounding an implant. Although peri-implantitis can arise from an excess of dental cement used to affix the crown to the implant, it most commonly starts like other forms of gum disease with dental plaque.
Dental plaque, and its hardened form calculus (tartar), is a thin, bacterial biofilm that builds up on teeth surfaces. It can quickly accumulate if you don't remove it every day with proper brushing and flossing. The bacteria living in plaque can infect the outer gum tissues and trigger inflammation.
Gum disease around natural teeth can spread quickly, but even more so with implants. That's because the natural attachment of the gums helps supply antibodies that impede infection. Implants, relying solely on their connection with the bone, don't have those gum attachments. As a result, peri-implantitis can move rapidly into the supporting bone, weakening the implant to the point of failure.
The good news, though, is that peri-implantitis can be treated successfully through aggressive plaque removal and antibiotics. But the key to success is to catch it early before it progresses too far—which is why you should see your dentist at the first sign of gum swelling, redness or bleeding.
You can also prevent peri-implantitis by practicing daily brushing and flossing, including around your dental implant. You should also see your dentist twice a year (or more, if they advise) for cleanings and checkups.
Dental implants overall have a greater than 95% success rate, better than any other tooth restoration system. But they still need daily care and regular cleanings to ensure your implants are on the positive side of those statistics.
If you would like more information on caring for your dental implants, please contact us or schedule an appointment for a consultation.